A Beauty of a pantomime heads to the Palace stage this Christmas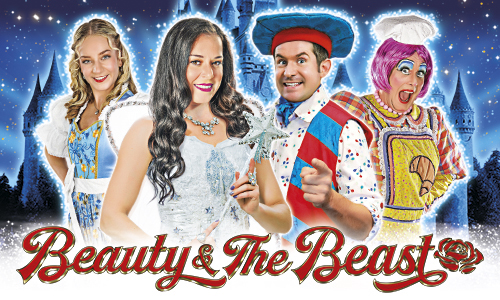 As the nights close in and the temperature starts to drop, we thought we'd give you a little pick-me-up in the form of some exciting panto casting news!
For the first time, our festive Christmas production will be Beauty and the Beast, running from Saturday 25 November all the way through to New Year's Eve, at Mansfield Palace Theatre.
One of the most popular fairy tales of all, Beauty and The Beast is the story of Belle who finds herself imprisoned in an enchanted castle by a prince who has been transformed into a hideous beast by an evil sorceress.
Can Belle see beyond the beast's appearance and fall in love with her captor? Will the beast return to the world he once knew and win the hand of the girl who has melted his heart?
With almost 70% of tickets already sold, we're really excited to announce our full line-up for the show.
Taking the central role of Belle is Issie Davis, who is no stranger to the stage after having roles in musicals including Spring Awakening, His Dark Materials and The Witches of Eastwick. Known in the industry as a 'triple threat', Issie is talented in singing, acting and dancing and can't wait to get started in her leading role.
Playing opposite Issie as Beast will be Shaun Dalton. His theatre credits include Bill Kenwright's Joseph and the Amazing Technicolour Dreamcoat, Kinky Boots and multiple appearances in the award-winning Les Miserables. He previously starred in UK Productions' national and international tour of Beauty and the Beast so is no stranger to his role this Christmas.
We are so excited to welcome Pantomime Awards winner, Nic Gibney as Polly la Plonk. You may recognise Nic as he reached the semi-finals of Britain's Got Talent last year as Harmony Hard-Up in the panto inspired group, Damenation. He was also awarded the gong for Best Ugly Sisters 2022 for his role in Cinderella at Bath Theatre Royal.
Not forgetting previously announced duo, Dani Harmer (CBBC's Tracy Beaker) as Fairy Bon Bon and comedian Adam Moss as Louis La Plonk.
Dani tells us:
"I love Beauty and the Beast. It is one of my favourite stories and I am really excited about playing Fairy Bon Bon at Mansfield this year. It is my first Christmas in Mansfield so I can't wait to spend some festive times there. I hope to see you all at the theatre!"
Adam adds:
"I've seen the script so know you're in for a real treat. This is going to be one not to miss."
Completing the casting are South African David Alcock as Clement, and Scotland's George Arvidson as Hugo, who you may recognise from BBC Three's Cuckoo.
Martin Dodd, Producer for UK Productions Ltd, tells us:
"With a cast of larger than life characters, side-splitting comedy, sumptuous costumes, fabulous scenery, and a thrilling transformation scene, this traditional family show really does promise to be a magical beauty of a pantomime."
Sian Booth, Cultural Services Manager said "Nothing beats the sparkle of a Christmas pantomime. It's Mansfield's favourite time of year and we're ready to welcome thousands of local families to the Palace for their yearly special treat. With so much children's entertainment now on screens it's such a thrill to see their eyes light up and jaws drop at a live theatre experience. Add the excitement of Christmas and you have all the ingredients for a magical trip to remember for a lifetime."
David Evans, Head of Health and Communities, adds "Mansfield families, residents and visitors love it when it's time for panto. The transformation scene is always a thrill to young and old alike and who doesn't get swept up in the festive atmosphere and all things sparkly? We're really excited to have a popular CBBC actress who many of our residents will relate to from watching her journey growing up on the hugely popular and successful Story of Tracy Beaker."
You'll enjoy plenty of laughs and festive magic with our 2023 pantomime, Beauty and The Beast, so secure your seats soon. We offer school and group bookings, as well as signed and relaxed performances, so speak to us if we can help with any additional needs you may have. Book your tickets online 24/7 HERE or call Box Office on 01623 463133 - we can't wait to welcome you.