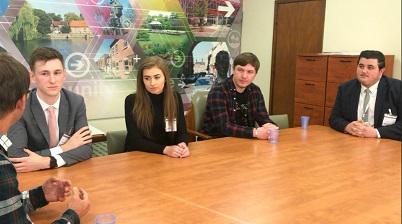 Executive Mayor Andy Abrahams met with four talent local business people nominated for the Mayor's Apprentice of the Year award 2019.
James Bowler, Louis Cartledge, Maddie Perry and Ross Walters met with Mayor Andy to talk about their experience in the workplace and what the awards meant to them.
Mayor Andy said: "Apprentices are the rising stars of our economy and these talented young people are vital to our future success. I am very passionate about providing the best start in Mansfield and I was pleased to meet four very confident and professional apprentices who are contributing so positively to the growth of local businesses".

Maddie Perry is doing her apprenticeship at Alexa Beauty Salon in Mansfield, she said that her apprenticeship has given her the opportunity to "develop skills as a beautician and develop relationships with clients".

Louis Cartledge of Premier Securities is completing a higher level apprenticeship and looking forward to working towards a directorship. He told the Mayor more about his long-term aspirations saying: "I want to stay with the company and grow it. I'll be here until I retire."

The Mayor's Apprentice of the Year award is one of 14 categories to be celebrated at the Chad Business Excellence Awards on 28 November at Portland Training College. Mansfield District Council is proud to be the overall sponsor of the event along with Ashfield District Council.
Mansfield District Council's regeneration team can advise businesses on how to create opportunities in the workplace and make best use of grants available to them. Contact the dedicated business support team online via the Invest Ashfield and Mansfield website (opens in new window).