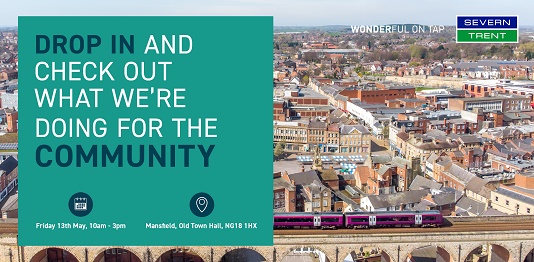 Severn Trent is bringing its regional customer roadshows to Mansfield next week (FRIDAY 13TH MAY), at Mansfield Town Hall, in the town centre. 
The company is inviting customers to come along and hear about it's plans to transform Mansfield through its Green Recovery programme, where it's investing £76m in an investment that will look to use nature to help reduce the risk of flooding for up to 90,000 people.
The project, the first of its kind on this scale in the UK, will see the company installing over 20,000 sustainable drainage systems across Mansfield.
Customers will be able to find out more about this exciting project and their Get River Positive plans – their commitment to protect the region's rivers - as well as also offering customers support and advice with paying their bill and showcasing the free employability opportunities and skills training available, at the roadshow next week.
Paul Evans, Community and Green Recovery Communications Lead said: "We're really excited to be bringing our community roadshow to Mansfield. Mansfield is going to massively benefit from our Green Recovery programme, so we really want to share with our customers what's happening right on their doorstep and across their town. We're about to embark on a project that's never been done to this scale before in the UK, so we want to share our plans and what's coming up with as many people as possible.
"This project will bring so many benefits to our customers in Mansfield, from creating jobs and more green spaces to enjoy, to massively reducing the risk of flooding for those living in the town. The roadshow is a great opportunity for people to pop out and find out all about it, meet some of the team and have a chat.
"We also know that rivers have been a key priority for our customers lately, so we really want the opportunity to talk about our Get River Positive plans and explain how we're improving local rivers and the wider environment, through our key commitments."
The Mansfield Green Recovery project team will be in Mansfield Town Hall from 10am to 3pm on Friday 13th May for customers to learn more and ask any questions.
Teams from its Academy and billing teams will also be on hand to support customers with getting help paying their bill, and finding out about the numerous training opportunities available.
"As well as talking about rivers and our ambitious Green Recovery programme, we'll also be able to share what support we can give to customers," Paul adds. "We know that this is still an incredibly difficult time for many following the pandemic, as well as the cost of living crisis – so we absolutely want to help our customers where we can. We'll be able to support customers who need help paying their bill, as well as helping those looking to learn new skills and employability training through our Academy. We're a big employer across the region, and we want to do all we can to help get more Mansfield people back into work or learning new skills."
Severn Trent's Academy team is hosting free employability skills training and workshops, to support communities with getting back into work. The workshops, that are either in person or online, include CV writing, presentation skills and digital skills and are available to anyone.
"It will be great to see as many of our customers as possible, so they can see all of the work we're doing to support the local community. We're investing hundreds of millions of pounds over the next few years to support our customers in the area, so we'd encourage people to drop by and have a chat," adds Paul.
To learn more about Severn Trent's Green Recovery programme, visit the Severn Trent website (link opens in new window).
Press release issued by Severn Trent