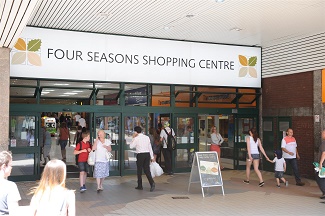 From Sunday 8 November, users of the multi-storey car park at Four Seasons Shopping Centre in Mansfield will have to pay for parking.
The charge, however, will be half price until the new year, in line with other car parks run by Mansfield District Council.
The car park has traditionally been subsidised by Four Seasons so that its customers could use it for free on Sundays, bank holidays as well as for late night Christmas. However, as a result of the current difficult financial environment, this cost to the centre is no longer a viable option.
Cllr Stuart Richardson, Portfolio Holder for Regeneration and Growth, said: "It is sad news that the Four Seasons cannot continue its free parking scheme and, unfortunately, the hard truth is that the council is not in a position to pick up the cost of this either.
"The council's car parks are an important source of income to help pay for council services and the coronavirus pandemic has reduced this income considerably this year.
"However we felt it was important to encourage people to shop locally and support the local economy in these difficult times so shoppers and visitors will still be able to take advantage of half price parking until the new year.
"It should also be remembered that the cost of parking in Mansfield remains competitive compared to most other parts of the county of a similar size and offer."
The council agreed earlier in the year to offer free parking at the council's car parks throughout the summer and then charge half priced parking fees between September and 31 December.
Annual income for the council from its car parks in 2019/20 was £1,590,650. Car park income since the start of the financial year to date is £79,916, compared to £923,237 for the same period last year, which represents a 91 per cent decrease.