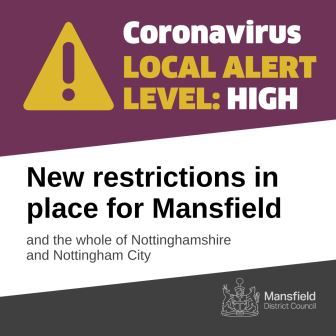 Mansfield District Council is calling on people to abide by new county-wide measures to help stem a significant increase in the COVID-19 infection rate across the county.
The government has placed the whole county under Local COVID Alert Level High restrictions, which means people in the whole of Nottinghamshire must not mix indoors with people who are not in their household or support bubble, either at home or in venues.
The new guidelines mean people should work from home wherever they can and care homes should be closed to external visitors, except in exceptional circumstances.
Executive Mayor Andy Abrahams said: "Even though Mansfield's infection rate remains comparatively low compared to other parts of the county, we understand why these measures have to be applied across the board in order to reduce the risk of the virus spreading.
"The guidance and insight from Public Health at Nottinghamshire County Council suggests county-wide measures are the best approach and Mansfield District Council supports that approach along with every other local council in the county.
"We have to work together and do everything we can to keep cases low and protect everyone because the alternative is cases could increase significantly and that would have a detrimental effect on businesses and communities. It's our belief that a smaller sacrifice on freedoms now will help reduce the risk of our infection rate increasing and avoid Tier 3 measures, which would be devastating for the local economy.
"It's far better that we unite and get behind this and do everything we can - individually and collectively - to bring the rate of infection down. The basic message remains unchanged from last week: Hands, Face, Space - Keep Mansfield safe."
Nottinghamshire now has an infection rate of 193 per 100,000 people over the seven days to 10 October. In Nottingham the number of cases is even higher and places the city as the highest for infection rates in the UK.
Public health leaders believe the rising level of infections is due to community transmission across age groups.
Details of what the new restrictions mean:
Social Contact - only between household/bubble indoors. Existing rule of six applies outdoors.
Weddings and Funerals - up to 15 guests for weddings and up to 30 guests for funerals. 15 for receptions, wakes and related ceremonies.
Overnight Stays - overnight stays permitted subject to social contact rules.
Working from home guidance - work from home where possible.
Shopping and Retail - open.
Leisure and gyms - open.
Hospitality - open with some restrictions including 10pm closing time and table-service only.
Entertainment and tourist attractions - open, except nightclubs and adult entertainment.
Education - schools, FE colleges open. Universities must reflect wider restrictions.
Healthcare Services - open.
Residential Care - closed to external visitors other than in exceptional circumstances.
Travel and Transport - may continue to travel to open venues, but reduce number of journeys where possible. Avoid travel into Local COVID Alert Level Very High areas where possible.
Sporting Activity - organised sport / licensed physical activity allowed in outdoor settings. Indoor organised sport must follow social contact rules (other than youth or disabled sport).
Worship - open, subject to social contact rules.
Childcare - registered and wraparound childcare. Supervised activities permitted in private homes. Children's groups permitted. Childcare bubbles for under 14s.
Youth Clubs and Activities - permitted.
There are three simple actions we must all do to keep on protecting each other:
Wash hands: keep washing your hands regularly,
Cover face: wear a face covering in enclosed spaces, and
Make space: stay at least 2 metres apart - or 1 metre with a face covering or other precautions.
Full details of the new guidance and what the different alert levels mean can be found on the Government's local COVID alert level webpage (opens in new window).
The alert level will reviewed on a fortnightly basis.
People with symptoms of COVID-19 should get tested as soon as possible (within the first five days of having symptoms).
You can book online on the NHS website (opens in new window) or by calling NHS 119. If you cannot get a test, or the location or time are not convenient, try again in a few hours as slots become available.
The police or the local authority can take action against those who break these rules, including asking people to disperse and issuing fixed penalty notices starting at £100. Breaches of the restrictions can be reported to Notts Police by calling 101.