DISCOVERING THE WORLD AROUND US.
CHERISHING MANSFIELD'S UNIQUE STORIES, AND BRINGING THEM TO LIFE.
CREATIVE ACTIVITIES
IN SCHOOL, AT HOME OR HERE WITH US.
"We believe that every young person should experience the world beyond the classroom as an essential part of learning and personal development, whatever their age, ability or circumstances." – Ofsted LOTC
"Cultural education subjects help to build the knowledge, skills, understanding and experiences that students need to succeed in 21st century life." – Arts Counci
SCHOOL AND GROUP VISITS
There's nothing we love more than welcoming children to our museum. Seeing children come to life, and creating those jaw-dropping, lightbulb, 'wow' moments is what it's all about.
We continue to work hard to put together a flexible programme of workshops which can be delivered live in your school, in the museum or online.
We offer a full range of creative, physical and educational work. All workshops are designed with Arts Award in mind. Please get in touch if you'd like more information or wish to deliver Artsmark/Arts Award in your school.
All workshops featured in our latest brochure are suitable for all children, including those with English as a second language, additional needs or disabilities. We're thrilled to present these activities to inspire positivity and aid the imagination of your students.
We have changed how we organise our workshops and additional offer in the museum, please see our latest brochure for further information.
If you would like to talk to us about arranging a visit, or a workshop with Mansfield Museum as a school, or as part of a community group or organisation, please contact Rachael on 01623 463088 or rboaler@mansfield.gov.uk
Rachael Boaler
Education Officer
Mansfield Museum
Education Officer
Rachael Boaler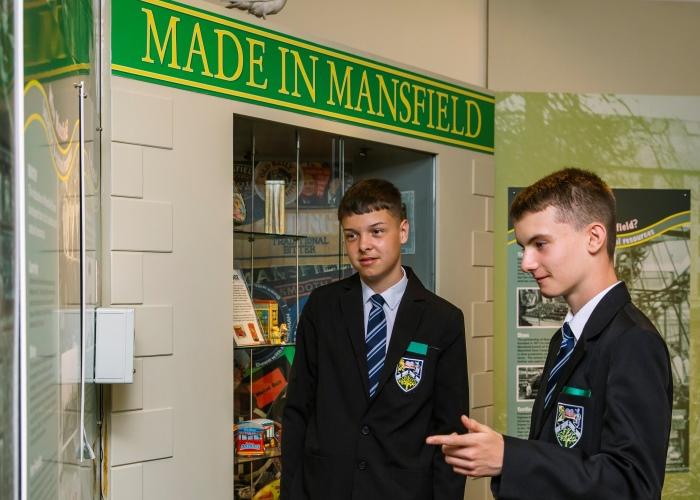 Online Booking
Please complete the online booking enquiry form first with the dates which you would like to visit. Our Education Officer will then get in touch with you to say whether or not your preferred dates are available.
Booking Form