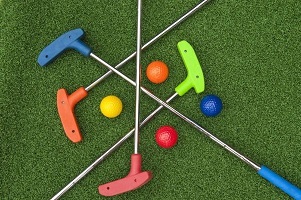 Visit our summer exhibition and play a round of crazy golf with us!
Many of our regular visitors will remember our record breaking summer exhibition last year to commemorate 50 years since man went to the moon. This year, for our first summer spectacular of the decade, we've gone golfing crazy!
To celebrate the 2020 summer of sport in Tokyo, our extremely talented gallery assistant Paul Rutland has built an around-the-world-in-nine-holes miniature golf course. Each hole represents a country that is taking part in the Games and features iconic parts of their country. Can you get a hole-in-one through the Houses of Parliament, defeat the Samurai warrior guarding the hole in Japan, or perform your best trick shot through the Taj Mahal?
Have a go and see if your score can make it onto our leader board! After a round of golf, there will be plenty of sport related ArtBeat! sessions to join in with too.
Global Golf opens on Saturday 25 July and runs until Saturday 26 September. The Museum is free to get in and is open Monday – Saturday, 10am – 5pm. It is closed on Sundays and Bank Holidays.
Please be aware that there is limited space and you may have to wait for space to open up.