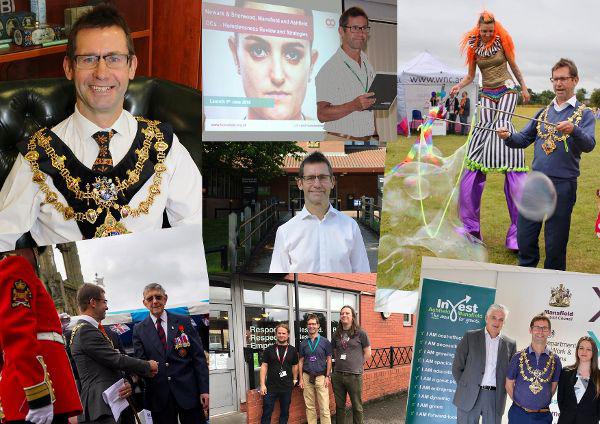 After 100 days in office, Andy Abrahams, Mansfield's directly elected Mayor reflects on what he's achieved in just a few months and his aspirations for the future.
Mayor Andy has pledged to address key issues around jobs, health, open spaces, the town centre and the environment. And, there has been progress in all of these areas.
He said:
The first few months have been a real eye opener for me. I'm from Mansfield and have a good perspective on local life but in the last 100 days I've worked hard to listen, learn more, meet local groups and stakeholders to find out what is really needed and where I can help the most.
The new Mayor of Mansfield is determined to make positive, sustainable changes that impact on the daily lives of people. His priorities during his first 100 days have been around safety, health and wellbeing, the local environment and of course refocusing the attention of the authority to deliver the aspirations of a new administration.

The first change he introduced was a reduced Cabinet, which has saved the authority £30,000 in members allowances. In addition, he is donating one third of his annual allowance to the community via the Mayor's 500 fund. The grant gives up to £500 to local groups to support activities in their neighbourhood.
"I've been absolutely blown away but the number of applications for my 500 Fund. So far I've given support to a marching band, community choir, sports activities and groups working with vulnerable young people in Mansfield."

There are further organisational changes to be made as Mansfield District Council continues its programme of transformation including a review of procurement to ensure that companies and local skills are fully utilised in the MDC supply chain - all at the request of the new Mayor.

"My ambition is to have an authority that works on community principles such as wealth building - having a local economy that works hard for the people that live here. This includes investment. I believe, as many others do, that we should invest in Mansfield first. I have also insisted that affordable housing is built to meet the needs of people living here."

Investing in young people is important to Mansfield's Mayor and he's raising the profile of apprentices in the work place. Working with media partners he's set to launch the Mayor's Apprentice of the Year Award as part of the Chad's Business Excellence Awards 2019 and a programme of activity to throw a spotlight on young entrepreneurs in the district.

Andy is also keen to give more support to Mansfield businesses and has instigated a series of surgeries to provide mentoring and funding advice. They started this month at the Civic Centre with support from NBV Enterprise Solutions and the D2N2 Growth Hub.

Making Mansfield safer and healthier is also high on the agenda for Mansfield's Mayor. "I want people to enjoy a good quality of life in Mansfield to feel safe. I am delighted that during my first 100 days Mansfield District Council has committed to funding an extra police officer in Mansfield town centre and secured funding for a Youth Partnership Co-ordinator."
A new parks strategy is to be commissioned to support the Mayor's aspirations to increase the use of green spaces. "I personally am delighted that the council has taken the decision to take on the Corporate Trusteeship of Berry Hill Park and can't wait to see more sport, wellbeing and leisure activities at the park over the coming years." There will also be a new Health Strategy for Mansfield by the end of the year.
I believe that Mansfield District Council is instrumental when it comes to environmental improvements and climate change. I'll be looking at more green, sustainable planning principles and seeking to improve recycling across the district. It's an exciting time for Mansfield.
The council has secured pre-development funding from the Future High Streets project, which means we can re imagine Mansfield for future generations. An application has also been made for Warsop to become a High Streets Heritage Action Zone, which would preserve the heritage of the parish, improve public spaces and tackle vacant properties.
"I feel accomplished in what has been achieved so far but there is so much more to do. I am confident that with the ongoing support of officers and the public that more changes and improvements can be made. I'll continue to put the community at the heart of council business."
You can follow Andy's work on Facebook @MansfieldMayor, email mayor@mansfield.gov.uk or contact him on 01623 463048.